Aerosols
All Purpose Cleaner
Super Clean
The Best All-Purpose Cleaner
This ALL PURPOSE CLEANER is a high foaming, clinging formulation that instantly attacks and loosens dirt, fingerprints, smudges, etc., from most any hard surface. Works especially well on doors, door frames. walls, ceramic and plastic file, sinks, tubs, showers, counter tops, table tops and also vinyl, leather and plastic surfaces. Super Clean does not contain abrasives, therefore it cannot wear off porcelain from bathtubs and wash stands. Clings to vertical surfaces as well as horizontal. 20 ounce can.
Battery Terminal Cleaner
Power Up
Battery Cleaner, Neutralizer & Protector
This advanced formulation serves four functions: cleans, detects acid, neutralizes acid, and protects against corrosion. As a cleaner, the product's foaming action penetrates and emulsifies dirt, grease and deposits. As a detector/neutralizer, the foamy light red formula turns brilliant blue when acid is present and back to light red when neutralized. As a protector, simply spray on and allow to dry to leave a protective barrier against rust and corrosion.
Belt Dressing
A special formulation that stops belts from slipping. Adds more power, eases strain on bearings, bushings, and stops squealing. This product works particularly well on rubber, leather, canvas, or fabric belts. The results are quick and economical. An excellent product for any garage or maintenance shop. Contains no chlorinated solvents or ozone depleters. 16 ounce can.
Brake & Parts Cleaner
Safe Brake II
Nonflammable Brake and Parts Cleaner
This nonflammable product is used to remove brake fluid, grease, oil, and other contaminants from brake linings and drums. It can be used safely on disk pads, drums, cylinders, and springs. This products is a high pressure nonflammable spray that blasts away dirt, grease oil, and dangerous deposits that cause excessive wear to brake mechanisms. Includes extension tubes.
Citrus All Natural Degreaser
Citrusafe
Orange Solvent Degreaser
Citrusafe is a powerful emulsifiable solvent degreaser. For a non-emulsifiable version, see Citra Float. Citrusafe contains no petroleum distillates – only natural orange peel extracts. This natural formula will work on all your toughest jobs. Great for cleaning equipment, motors and all other metal parts. Use it for degreasing concrete and wood floors, deodorizing smelly garbage bins, stripping adhesives and decals, and carpet backing from sub-floors. Strips tar & asphalt easily from tool as well as truck beds and bodies without harming paint. Cleaned surfaces can be rinsed with water.
Citrusafe is ideal for use as a biodegradable asphalt release agent or asphalt solvent. Many DOT's and municipalities use Citrusafe regularly in their cleaning tasks.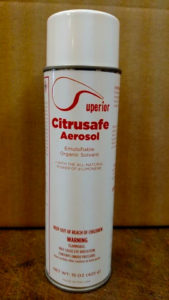 Foaming Chain & Cable Lubricant
This is a premium foaming rust-protective lubricant that penetrates to the core of cable and chain. Provides superior friction reduction and wear resistance.Thick formula base with tackifier to prevent throw-off and weather washout. Fortified with Moly (molybdenum disulfide) to withstand extreme temperature and pressure. Excellent salt spray resistance. Extends cable life.
Features:
Friction, Wear, Salt Spray, Humidity, Chemical Vapors, & Water Damage
High Pressure & Extreme Temperature Tesistance
For Use On:
Chains, Booms, Hoists, Saws, Convayors, Cables, Tow Lines, Wire Rope, Cranes, Winches, Rollers, Bearings,  Shipyards, Mining, Railroads, Factories, Steel Mills, Road Equipment
Glass Cleaner
Vista
Heavy Duty Glass Cleaner
Non-Ammoniated, Professional Strength
No Streaking, Hazing, or Smearing
Leaves No Residue or Film
Advanced Foaming Action
Pleasantly Fragranced
Commercial, Auto/Fleet/Marine/RV
This versatile, extra strength product is the ONE product for even the toughest glass cleaning applications. Windows, glass, windshields, mirrors, displays,glass counters and more are easily cleaned of dirt, grease, oil, smudges, finger prints, lipstick, and other stubborn deposits. Safe on plastics and Plexiglass ®. Makes an excellent computer screen cleaner.
Ice Melt
Thaw
Aerosol Ice Melt
A push of a button removes ice, snow, frost, and prevents refreezing on windshields, windows, and headlights, and thaws frozen door locks. Will not harm plexiglass, paint, metal or rubber. 16 oz. can
Non-Flammable Safety Solvent
S-1
Non-Conductive Industrial Cleaning Solvent
Non-conductive to 29,000 volts
Non-flammable
Non-ozone depleting
This highly concentrated solvent is designed to remove dirt, grease, oil, and grime from metallic and many nonmetallic surfaces without the use of ozone depleters or methylene chloride. Cleaning is quick and simple without the danger of injury to working parts. This solvent is ideally suited for use on electric motors (even while running), electronic equipment, ignition systems, typewriters, computers, generators, power tools, etc. It is nonflammable and non-conductive so it will not short motors, generators, other live electrical equipment or increase fire hazard. It easily removes grease and tar, adhesive marks, crayon, lipstick, chewing gum, ink, and fresh paint. It is excellent for removing these spots from upholstery, fabric, rugs, clothing, painted surfaces, metals, and other surfaces. 20 oz can.
Penetrating Lubricant
Super Pen
4-in-1 Penetrant & Lubricant
A 4-in-1 spray lubricant formulated to loosen, clean and lubricate frozen nuts, bolts and moving parts. This clear lubricant/penetrant stops and prevents corrosion, thus saving repair and maintenance time. It is ideally suited for refrigeration equipment. automobiles, workshops, etc. 20 ounce can.
Rust Preventative
Armor Coat
Rust & Corrosion Inhibitor
Armor Coat is a flexible, semi-hard, dirt resistant, long term anti-rust, and anti-corrosion film. Protects metals from exposure to weather, high humidity, and chemical fumes and salt spray. Excellent for protecting parts in transit or storage. Can be easily removed when necessary.
Rust Treatment
Rust Stop
This new surface conditioner and primer changes rust into a dark protective polymeric coating. It converts existing rust to an inert coating that seals out moisture to prevent future rust and corrosion. RUST STOP provides and excellent primer coating for the application of quality oil-based paints. Surfaces protected with this primer and an oil-based paint system resists the effects of weather, rain, sun and salt spray without peeling or cracking. This easy-to-use products is the first step in providing long-term protection of steel and iron surfaces.
Red Grease
Grease Gun
Multi-Purpose Spray Grease
This liquid lithium grease sprays as a penetrating liquid then quickly sets up to a durable, heat resistant, protective gel. Seals out moisture for long-lasting lubrication and rust protection. Sets up in seconds and cures completely in 15 to 20 minutes.
Silicone Lubricant
Super Lube
Thick Viscosity Silicone Lubricant
This thick viscosity, heavy duty silicone (10,000 centistokes) is specially formulated to provide superior all purpose lubrication and protection without the use of ozone depleters or chlorinated solvents. Use this product on moving parts, as a water and weather barrier, as an electrical Insulator, and to prevent sticking, squeaking and freezing of doors, windows, locks and assemblies. Safe for use on virtually any surface. 16 ounce can.
Wasp & Hornet Spray
Blast Out
WASP & HORNET KILLER (SOLVENT BASED)
This special formulation contains a combination of pyrethrins (0.1%), pyperonyl butoxide, and a carbamate type insecticide in this formulation which is particularly effective against this class of insect. The inclusion of a residual insecticide continues the killing action (in protected areas) several weeks after the nests have been sprayed. The jet stream pattern kills up to 15 feet away. Blast Out is non-conductive to 31,840 volts. It contains no chlorinated solvents or ozone depleters.