Industrial
Super Green Degreaser
Super Green – Heavy Duty Degreaser
Super Green is a powerful, concentrated, degreaser. Super Green is effective for cleaning the toughest soils. Grease, grime, carbon, oil, soap scum, soot, you name it, are no match for Super Green, and it contains rust inhibitors. Safe on any surface, Super Green is mild to use yet powerful enough to remove stubborn soils, and will not etch glass. Super Green is super-concentrated and can be diluted up to 100:1
Super Blue - Powerful Purple/Blue Degreaser
Super Blue
Super Blue Concentrate is a premium super concentrate low viscosity cleaner/degreaser designed to remove dirt, oil, grease, wax, crayon, carbon soot, cooking soils, soap scum, and all related soils from painted wood, masonry, ceramic, steel, and stainless steel surfaces. When used as directed, it is effective in warm or cold water. Super Blue Concentrate contains no acids, caustic alkalis, petroleum, hydrocarbons or amines.
Force - Concentrated Pressure Wash Detergent
Force
STEAM & PRESSURE WASH CONCENTRATE
STRIPS AWAY GREASE, DIRT AND GRIME
FORCE has been formulated to provide fast and effective cleaning. Quickly removes grime, oil and grease, road film and other heavy duty, tough soils from fiberglass, vinyl, and industrial equipment. Removes black streaks on RV's, cleans concrete, gutters, vehicle engines and removes carbon from surfaces. Makes an outstanding truck and trailer wash.
Directions for Use:
Adjust the feed rate of cleaner to obtain a dilution of 1:10 up to 1:40. Heavy deposits may require more concentrate, and lighter deposits may require less. Be sure to rinse cleaning equipment with clean water after each use. Do not use product on aluminum. Caution must be used to determine suitability on painted surfaces.
Hi-Shine - Concentrated Premium Vehicle Wash w/Wax
Hi Shine
Hi Shine is a premium concentrated wash and wax product. This one-step product removes dirt and road grime then it applies a durable polish coating to provide a high-gloss finish that beads away water. It is safe to use on a wide variety of cars and vehicles. Ideal for cars, buses, trucks, SUV's, boats, and golf carts.
Directions for Use:
Dilute 3-6 ounces per gallon of warm water. Spray down and then
wash the vehicle. Rinse with cold water and chamois dry. Buff the
finish to a high gloss with a clean soft cloth.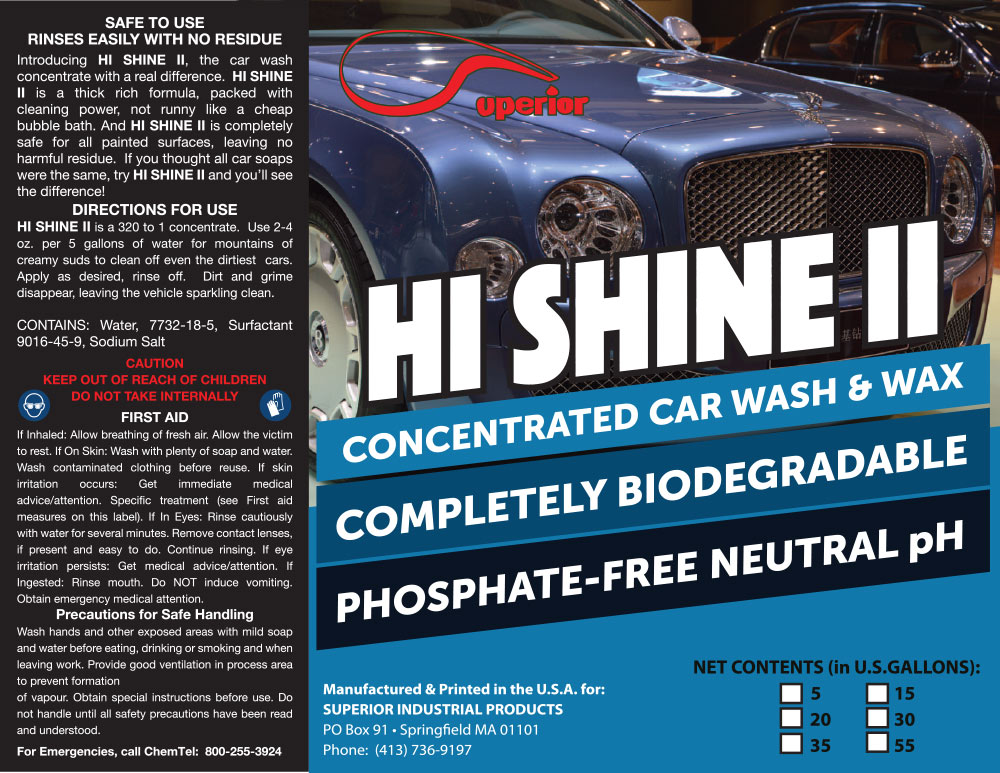 Neutralize - Salt Neutralizer - Protects snow removal equipment from rust by sterilizing equipment from salt
Neutralize
Sterilize Vehicles and Equipment from Corrosive Salt
Neutralize chemically neutralizes corrosive films left behind from road salts. This product chemically reacts with salt ions and breaks them apart and allows them to be flushed away with virtually no scrubbing. Regular use of Neutralize has proven to reduce corrosion of sanders, sander jets, conveyors, beds of trucks, and truck bodies. Neutralize is especially useful on equipment that uses liquid calcium chloride or magnesium chloride. These sprays speed the corrosion process. But with Superior's Neutralize and routine use, corrosion is minimized. Neutralize is safe for all painted finishes when used as directed.
Ideal for sander units and beds of trucks where salt or liquid calcium chloride accumulates and may quickly promote rust. A must to use at the end of the season before sander units are stored for the off-season.
Neutralize is highly concentrated, economical, and easy to use! Just mix 1 part Neutralize with 20 parts water. Spray or brush on. Let sit for a few minutes and rinse with fresh water.
Contact us at 800-747-5800 for quick delivery!
Rust Converter
Rust Stop
This new surface conditioner and primer changes rust into a dark protective polymeric coating. It converts existing rust to an inert coating that seals out moisture to prevent future rust and corrosion. RUST STOP provides and excellent primer coating for the application of quality oil-based paints. Surfaces protected with this primer and an oil-based paint system resists the effects of weather, rain, sun and salt spray without peeling or cracking. This easy-to-use product is the first step in providing long-term protection of steel and iron surfaces.
Truck Brite- Concentrated Vehicle Wash